i3 Brain Training – Rapid Neuroplasticity Change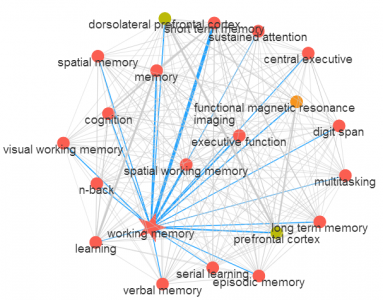 .
.
.
It is only due to recent insights from cognitive psychology about the functioning of working memory – a short term memory system for processing information – that scientists have now developed an effective brain training exercise for increasing IQ and memory capacity. i3 Mindware IQ training employs a core working memory exercise that over 20 days results in IQ-increasing long-term neuroplasticity change. Relationships between working memory and different cognitive functions and brain regions according to brainSCANr are shown here.
i3 Mindware Neuroplasticity Effects
Working memory and general intelligence  (IQ) both share the same brain circuitry – part of the frontal cortex of the brain called the dorsolateral prefrontal cortex. ('Dorsal' means up, and 'lateral' means to the side – hence 'dorsolateral'). It has been demonstrated in a number of replicated, peer-review studies that circuitry in the dorso-lateral prefrontal cortex is changed as a result of working memory training, with long-term neuroplasticity synaptic modifications. Here is an example study entitled 'Changes in Cortical Dopamine D1 Receptor Binding Associated with Cognitive Training' (full text here). D1 receptors are part of the working memory circuitry. The authors conclude:
More generally, the present results demonstrate a high level of plasticity of the [working memory] neuronal system defined by cortical D1 receptors
---
Inteference Control – Brain Regions
2G brain training builds on dual n-back working memory training. Not only does it result in neuroplasticity change in d1 receptor circuits (above), but it results in changes in areas underlying interference control which is critical in brain training-related IQ gains. Studies by Burgess, Gray, and fellow grad student Tod Braver (article 1, article 2) provide brain imaging evidence of a large overlap of gF and working memory span brain mechanisms when there is need for interference control on a task – but not otherwise. They found that brain regions common to fluid intelligence and working memory became more active when there was more need to filter out distractions ('lures'). The brain areas underlying both interference control, working memory capacity and fluid intelligence were the lateral prefrontal cortex (lPFC) and parietal cortex, shown in the fMRI images below which show activation in both the left and right hemispheres of the brain.
i3 Mindware training induces neuroplasticity changes in these brain regions.

Burgess, G. C., Gray, J. R., Conway, A. R. A., & Braver, T. S. (2011). Neural mechanisms of interference control underlie the relationship between fluid intelligence and working memory span. Journal of Experimental Psychology: General, 140(4), 674–692.
---
References
Burgess, G. C., Gray, J. R., Conway, A. R. A., & Braver, T. S. (2011). Neural mechanisms of interference control underlie the relationship between fluid intelligence and working memory span. Journal of Experimental Psychology: General, 140(4), 674–692. doi:10.1037/a0024695[space]
Gray, J. R. (2004). Neurobiology of intelligence: science and ethics. Nat Rev Neurosci, 5(6), 471–482.[space]
Gray, J. R., Chabris, C. F., & Braver, T. S. (2003). Neural mechanisms of general fluid intelligence. Nat Neurosci, 6(3), 316–322. doi:10.1038/nn1014.[space]
McNab, F., Varrone, A., Farde, L., Jucaite, A., Bystritsky, P., Forssberg, H., & Klingberg, T. (2009). Changes in Cortical Dopamine D1 Receptor Binding Associated with Cognitive Training. Science, 323(5915), 800–802. doi:10.1126/science.1166102 [space]
Tsuchida, Y., Katayama, J., & Murohashi, H. (2012). Working memory capacity affects the interference control of distractors at auditory gating. Neuroscience Letters, 516(1), 62–66. doi:10.1016/j.neulet.2012.03.057